When the MR2 multi club Euro trip was first suggested by our friends on the continent we thought fantastic, something organised to get involved in that was more than just turn up and stand around in car parks admiring each others cars. I've always wanted to do a road trip but it was something I'd never got around to doing.
Having duly signed up as interested we waited and waited and it seemed to us that time was ticking away and if we were not careful the trip was going to go down the pan. Eventually we came to the decision due to no real progress with the organised trip to go it alone and organise our own road trip and if that meant missing out on the organised trip then so be it.
Below is the route we are taking along with the hotels we have managed to find and get booked plus some details of expected costs.

Hotels we are using and locations

What follows are the approx routes we are planning to take between Hotels.
Mainly because we have loads of Tesco vouchers to get rid of we are travelling from Folkestone to Calais by Euro Tunnel...the cost of this return journey without vouchers would be £150 but for us vouchers :)
From Calais we are then planning to do a long stint (620KM) to get to Strasbourg where we will have our first Hotel stopover for one night.
Calais To Strasbourg 7th August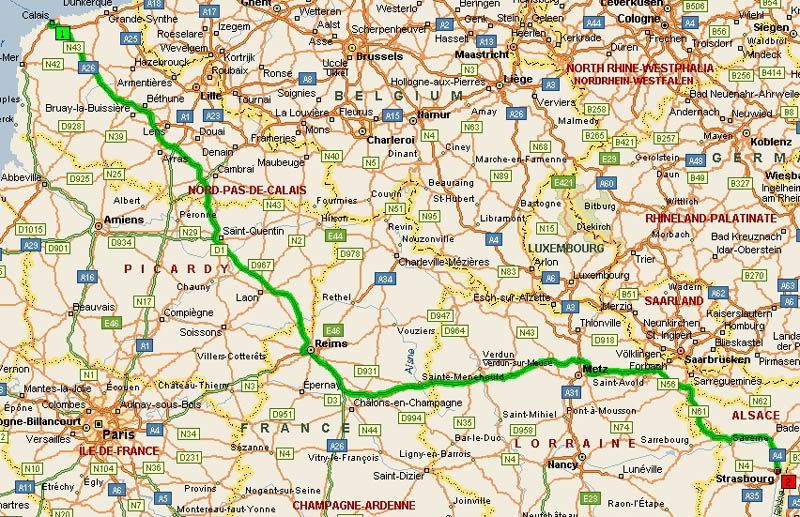 Then we will be up early again the next day for the stint from Strasbourg to Innsbruck (470KM). We opted to go to Innsbruck instead of Salzburg because it was nearer to the driving roads we want to travel.

Strasbourg to Innsbruck 8th August
This day will see us venture onto the superb alpine roads that we will have travelled all that way to drive. We start off in Innsbruck and head south to Meran taking in the SS40 and then going on to the famous SS38 up through and over the Stelvio Pass, through Bormio and finishing up in Grosio. A total of 239KM over some seriously twisty stuff.
We will be staying 2 nights at this Hotel in Grosio, mainly because in the immediate vicinity there are several spectacular driving roads which we intend to explore fully.

Innsbruck to Grosio 9th August
Having had a 2 day stop over in Grosio it will be time to move on. This next stage will take us from Grosio to Airolo taking in some fabulous roads including the famous San Bernardino Pass and involves a total of 267KM.
Again...because there are so many brilliant roads and scenery in the location we are staying 2 nights in this Hotel to make the most of it without being rushed.

Grosio to Airolo 12th August
This days driving stint is going to be a long full day with an early start, we will have 454KM to do from Airolo up to Andermatt taking in Gotthard & Furka Pass and then down to Bardonecchia taking in Mont Blanc on the way. Not stopping at a Hotel this time but a Skiing chalet instead, this was a bargain @ 63 euros for the night and is perched on the side of a mountain.

Airolo to Andermatt to Bardoneccia 13th August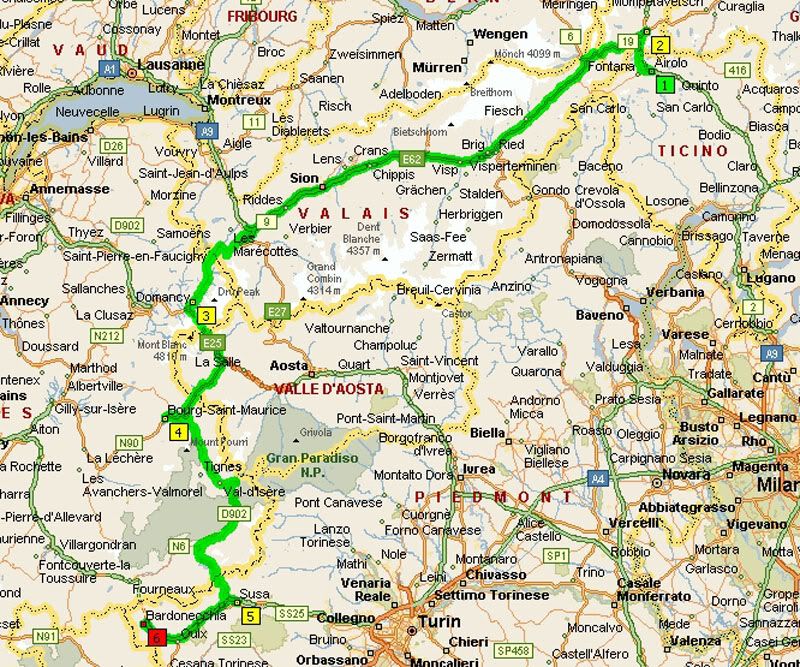 This next stage from Bardoneccia to Grasse in the south ofFrance (370KM) has some great roads down to the Med coast and then follows the coast past Monaco, Nice Cannes etc before finishing up in a more resort based hotel in Grasse where we will have another 2 days chilling in the sun and having a bit of a wander around.

Bardoneccia to Grasse 14th August
We will be travelling from Grasse to Grenoble on this day using the famous Route Napoleon which is supposed to be a spectacular road (312KM) finishing up with 1 night in a Hotel there.

Grasse via Route Napoleon to Grenoble 16th August

This next day will be a fairly boring day driving to Reims (594KM) just to get there really with the plan of having 2 nights in Reims to explore the surrounding area (maybe get a train into Paris etc).

Grenoble to Reims 17th August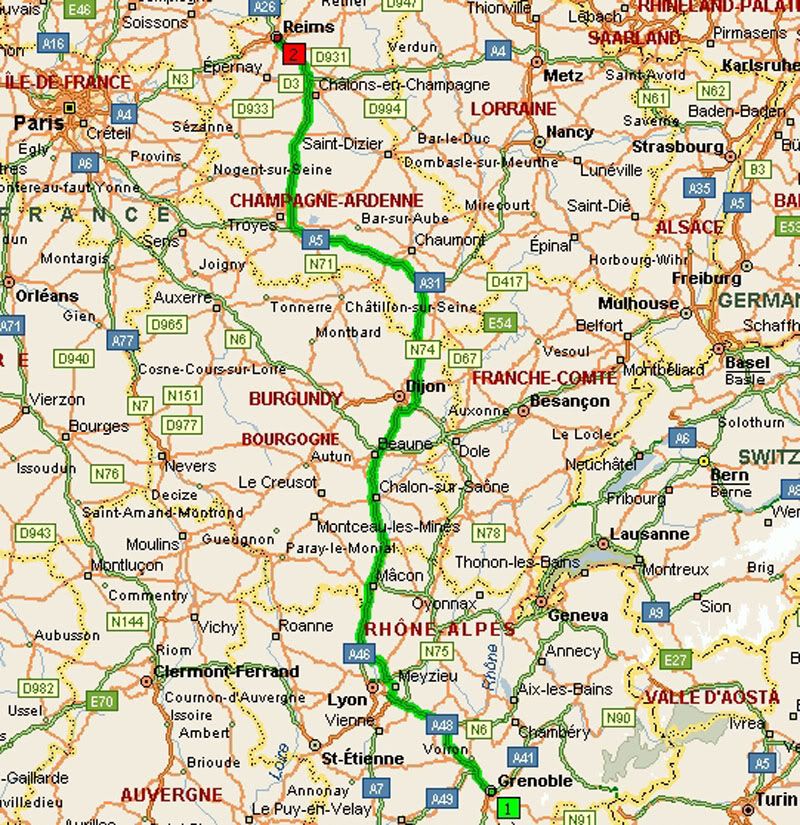 This final day will see us make the final push for home from Reims to Calais and then back through the tunnel to the uk.

Reims to Calais 19th August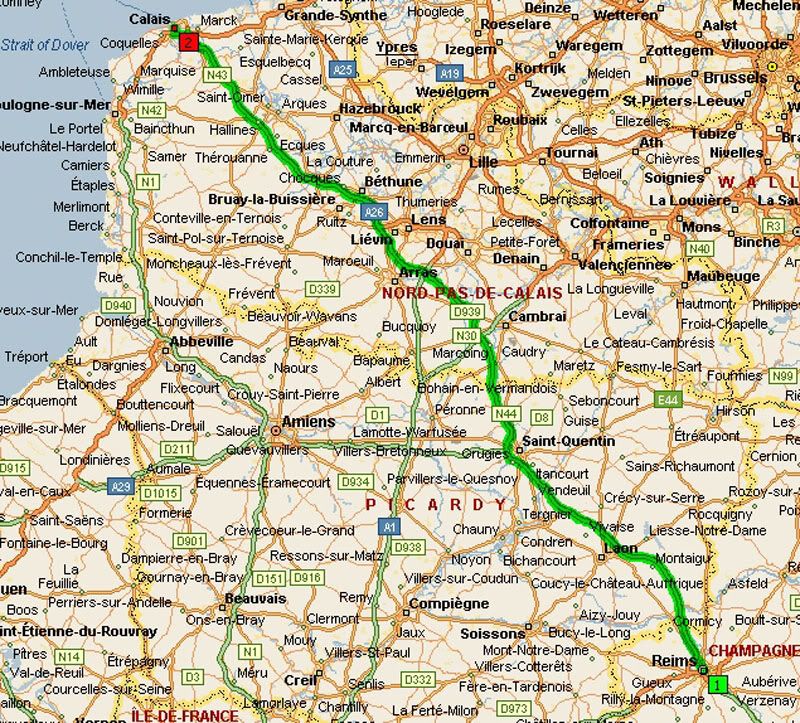 Well there you have it...that covers our plan for the trip. I'm predicting our costs to be as below. I've converted from Euros into pounds.
Tunnel Crossing.........................£0 (Tesco vouchers)
European AA Breakdown Cover...£87
Petrol Costs @ 3000 miles...........£700
Hotelcosts for 12 nights..............£690
Food & Drink for duration............£600
Toll road fees (unknown).............£???
Total..........................................£2077
So not a cheap trip by any means but for us probably a once in a decade trip to make, so we are doing it anyway.